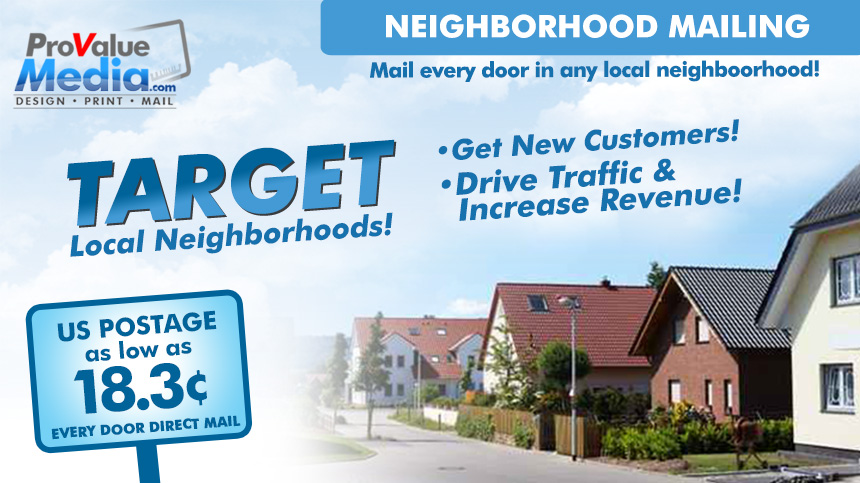 Every Door Direct Mail (EDDM) is a new program from the United States Post Office. This program offers a discounted postage rate of 18.3 cents per piece. EDDM works well when you want to target your mailing to everybody that lives in a specific area (zipcode or neighborhood).

Direct mail is ideal for these Industries
If your business falls into any of these industries, you may use EDDM to maximize your mail marketing:
Restaurants

Retail Stores

Dentists
Attorneys

Tax Preparation

Auto Repair
Insurance Agents

Carpet Cleaning

Pest Control
Need Help? Who to mail? What to mail and when to mail it?
Call us for a FREE Marketing consultation 956.723.0224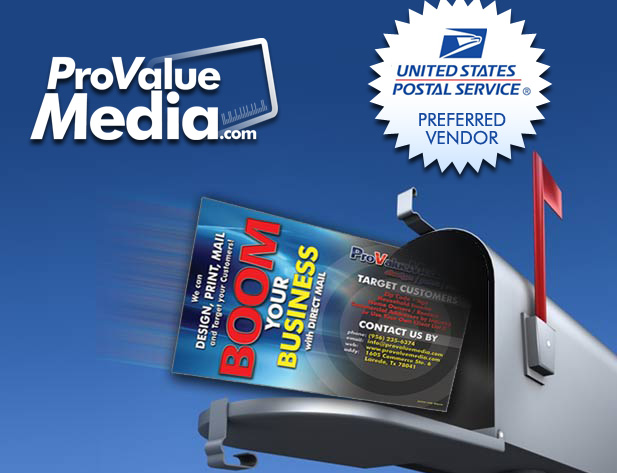 Postcards are the best choice for Direct Mail. Try some of these ideas to acquire new customers with Every Door Direct Mail.
Send a coupon or "bring in this card to save" offer.
Promote your next sale
Announce a new store opening or new location
Invite your prospects and customers to an open house or other special event.
Neighborhood Circulars can help split the cost with some of your neighbors
Call us for a free consultation 956.723.0224 to see which marketing strategy is best for you!
Printing EDDM with ProValueMedia has never been easier and more beneficial than ever!
Postal discounts — rates as low as 18.3 cents per piece.
More savings — no mailing list is needed so you'll save on rental or purchase fees.
Even more savings — no need to print names and addresses on every piece.
Time savings — ProValueMedia can take your idea and complete all production, including mailing.
Quick turnaround — less printing and mail sorting means your piece can be delivered sooner and into the hands of your customers.
Larger Postcard for more visibility!
We can help you with one aspect of your mailing or we can help you with all of it!
• Target: Select your carrier routes via USPS.com or call us to help you choose.
• Design: Your postcard design can be uploaded or we can design one for you.
• Print: We print mail pieces to EDDM standards
• Mail: We prepare all necessary paper work and postage delivery.
Full-color postcards on quality stock
Full color, 2 sided. Finishes available: Semi-gloss, U.V. high gloss
Standard 2-4 day turnaround • Same Day & Next Day Printing is available upon request.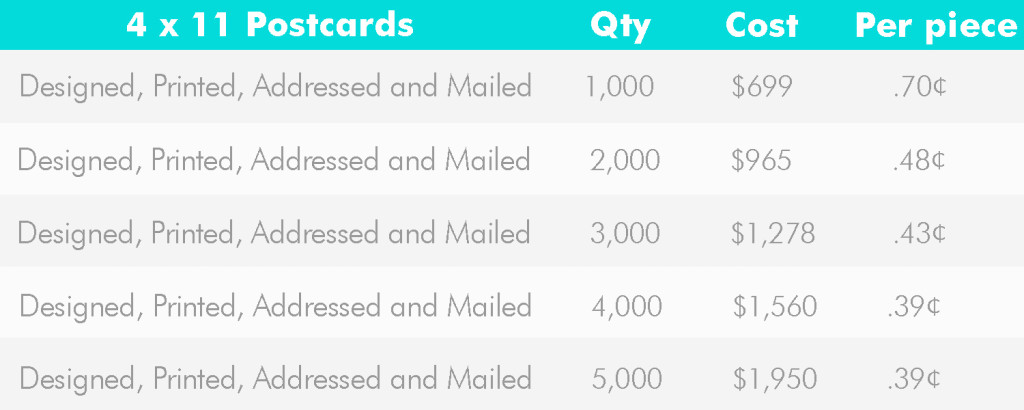 Need Help? Who to mail? What to mail and when to mail it?
Call us for a FREE Marketing consultation 956.723.0224